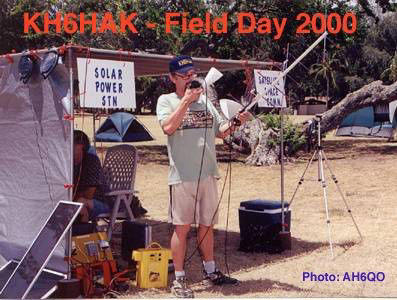 I blame it all on Ted Brattstrom, NH6YK, for the year he couldn't attend Field Day and so downloaded a bunch of satellite coordinates and prodded me to make some satellite contacts for Field Day. Things were never quite the same after I had a space QSO with Susan Helms, flight engineer of expedition two, working NA1SS aboard the International Space Station! OK... I'm a 'space cadet' now. I usually wind up working the satellite tent for KH6J Field Day operations with the Koolau Amateur Radio Club
out at Kualoa Beach Park. I'm also a member of the Emergency Amateur Radio Club and help maintain their repeaters.

Field Day 2010 - Kualoa Beach Park

Sunrise on the windward pali of Oahu, from Kualoa Beach Park.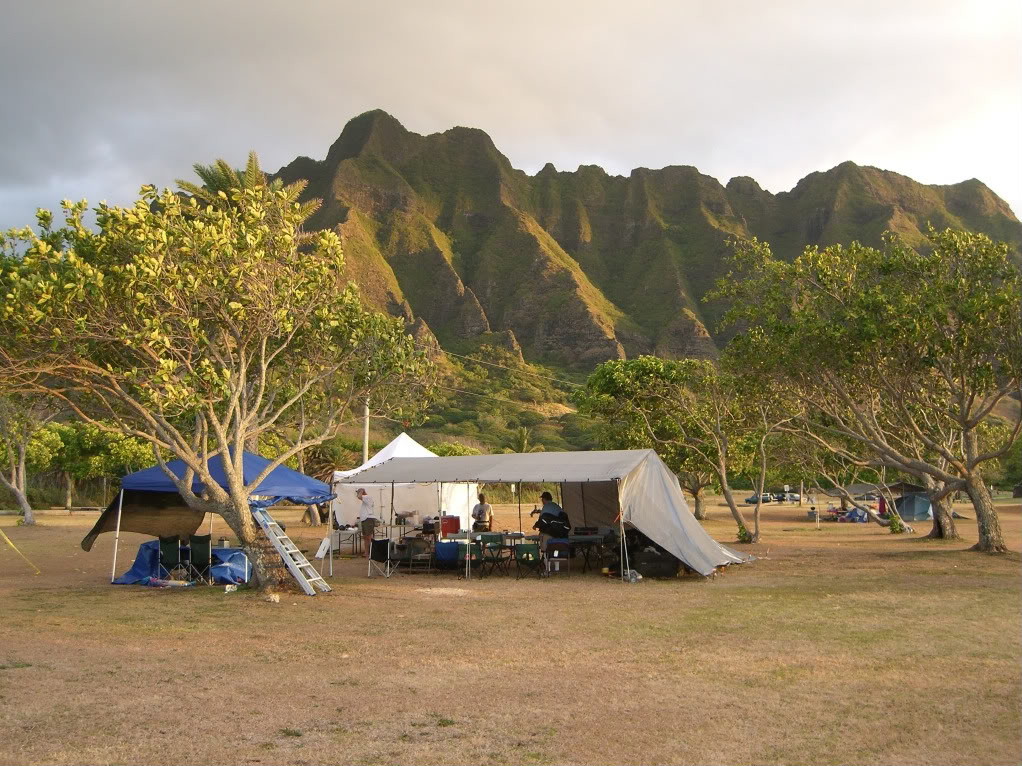 Field Day Kitchen with the Kualoa pali as backdrop at sunrise.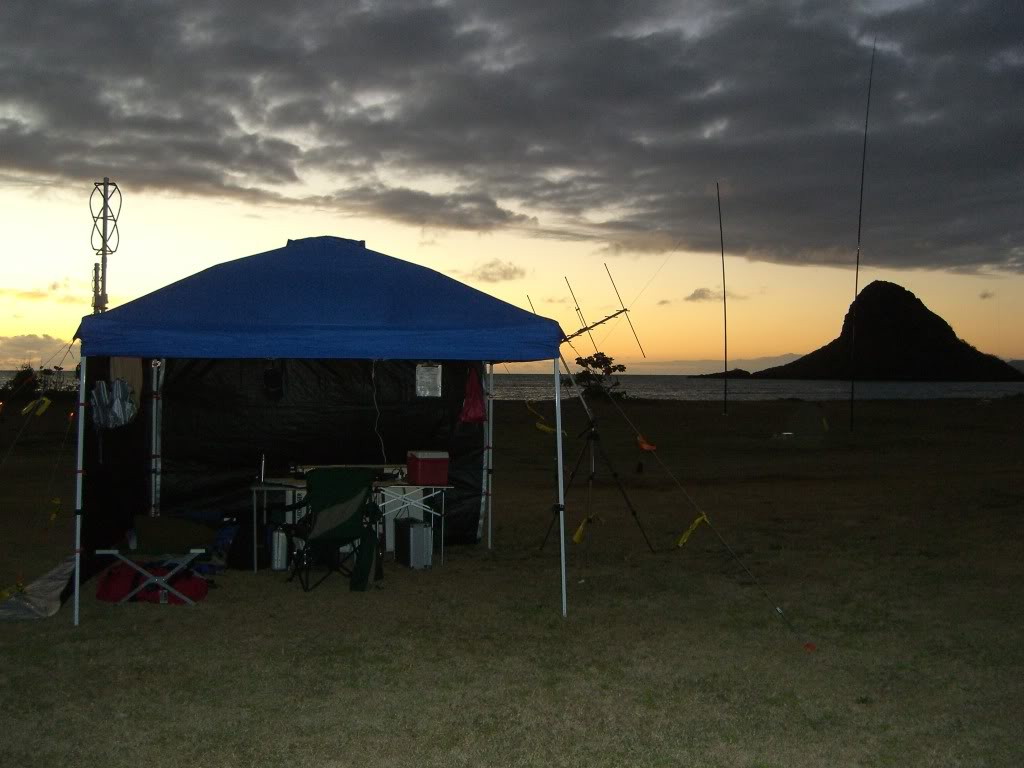 Satellite station at dawn. Mokolii island, or "Chinaman's Hat" offshore.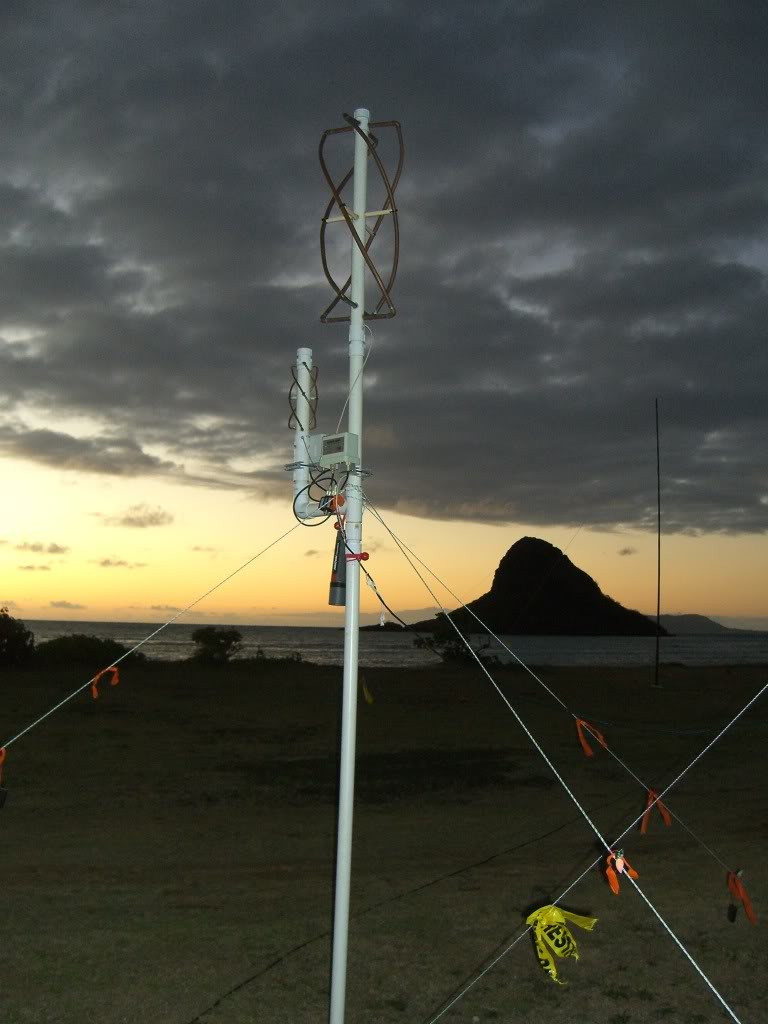 Two Quadrifilar Helicoidal (QFH) antennas. Two meters on top, 70cm on the 'cactus arm'.
QFH antennas are used on the NOAA WX satellites at 137 MHz, and are uniquely suited as ground receive antennas also. They maintain circular polarization across the whole hemisphere of sky above, thus eliminating (cross) polarization fades as a satellite tumbles with it's linear antenna. Designing the QFH with a slight 'squash' or shortening, such as I did with these, results in about a 6db gain at the horizon, where you need it most for distance. There is no dead spot overhead of the QFH antenna, either.

Construction plans for these antennas are from this site:
http://www.jcoppens.com/ant/qfh/index.en.php
Field Day 2011

SAME LOCATION - KUALOA BEACH PARK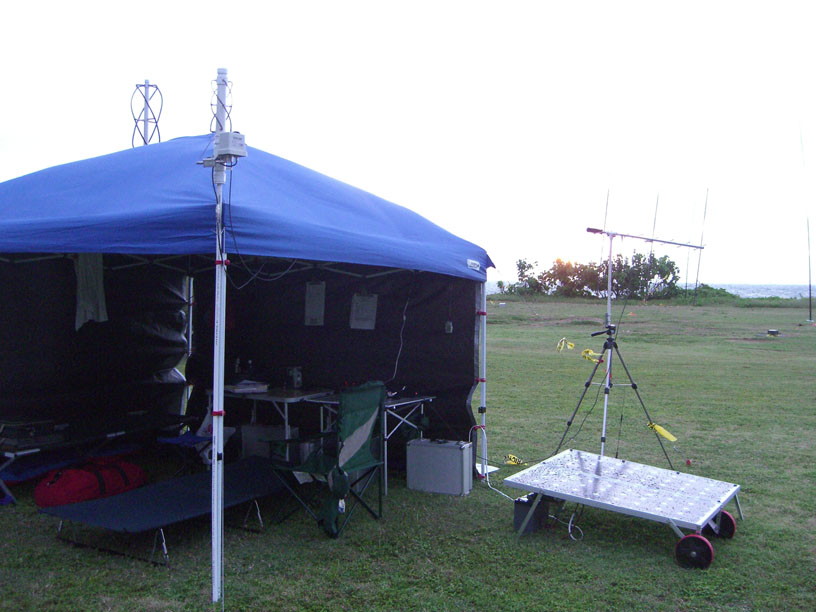 Weather was a little windy & rainy. This year I added two 100-watt solar panels, hinged to fold up and wheel away for storage. Charge controller and inverter mounted on the back (underside here). That's a 55Ah AGM deep cycle battery underneath, too.
Here are some YouTube videos of a couple satellite contacts I made:
First Field Day satellite contact, worth 100-points, was on the SaudiSat,

SO-50 with K6MMM in Santa Clara Valley, California.

Next contact was on AO-27 with W6YX at Stanford University, California.

Field Day 2012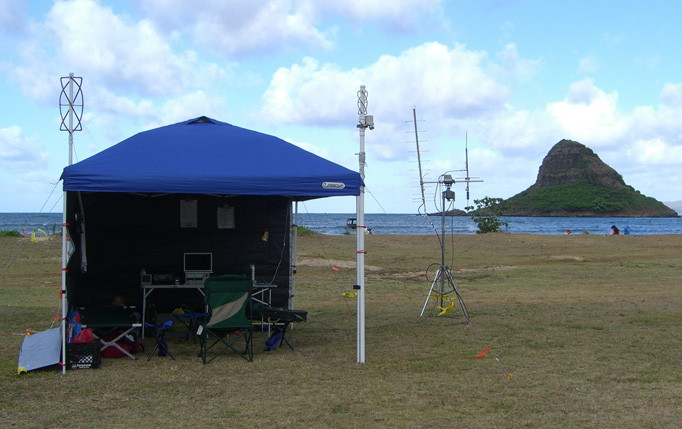 This year I added the AZ-EL rotor system and the 'Cheap Yagi' on 435 mHz.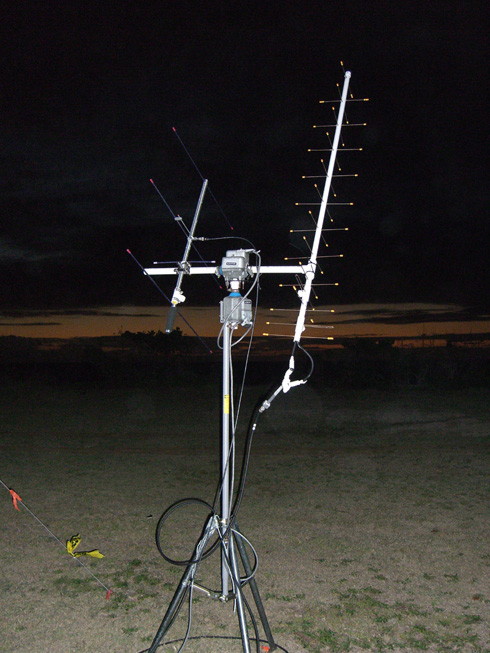 Space Launch at Dawn!